About This File
Honeycomb Alpha Flight Control Template
Carenado FA50 EX v1.1
Import and activate via the Honeycomb Configurator v2.0.0.1
I've had the best success with 2.0.0.1 templates by starting X-Plane 11 and immediately reloading the bindings for all Honeycomb devices via the X-Plane 11 menu (e.g. Plugins > Honeycomb > AFC_Yoke > Reload Bindings).
Honeycomb Config Tool tutorials:
https://www.youtube.com/user/MrJaraNet/videos
Obvious note: The blue cells (XP 11) are my own X-Plane 11 bindings.  The dark gray cells are Honeycomb configurator bindings.
The ZIP file contains 2x different .json profiles - one for the XP11 FMS and another for the Reality XP GTN 750.

The only difference is the magneto 'BOTH' switch.  The magneto dial toggles between nav sources; 'BOTH' is for GPS nav source (stock FMS or GTN 750).
 

The reason there are 2x NAV1 selections on the starter switch is to quickly switch from GPS to NAV1 when performing an instrument landing/procedure.

The right-most NAV1 ('START' position) has a closer zoom level than the first NAV1 since it is for landing.
TL;DR Basic Startup
======================================================
(give a solid 1-second count between each switch)
ALT.....................ON (GENs)
BAT.....................ON (BATs 1 and 2, bleeds, misc switches)
BUS2....................ON (APU START, wait a few moments)
BUS1....................ON (AVIONICS, Anti-Skid, Hyd Stby Pump, IRS)
ENG START...............2,3,1
BRAVO SWITCH 6..........ON (Pitot heat and Air Start switches)
BUS2....................OFF
======================================================
General Notes
There is fragmented information available regarding a comprehensive and accurate accounting of real world normal procedures specifically for the updated EX version of the FA50
Carenado docs, Google/YouTube, and information/checklists from this thread as well as from a FA50 EX Bug List Forum were referenced
Sometimes switches can be flaky, especially when rapidly or simultaneously activating 2x or more (e.g. X-FEEDs, certain light switches)
I am considering making the ALT switch an up/down toggle switch for the 3x Air Start switches.  The air start switches are 'switched' during flight; the generators are not, so it's a good candidate for a switch.

NAV light will go to NAV-LOGO if it's dark outside
Beacon (RED anticol) needs to be on before the strobe switch (ALL anticol) will respond
Avionics BUS1 turns on only the LH AV MASTER switch, not both LH and RH

Can't get both to turn ON/OFF with the single switch using the Honeycomb Configurator (XP doesn't play well with truly simultaneous commands/manipulators?)
Only 1 AV MASTER is necessary.  If both are on and one is turned off, all avionics get turned off.

Some (not all) of the Thranda switch UP/DN Commands behave as toggle switches no matter how the switch is oriented.

EG: Issuing a DN command when the switch is already down will move the switch UP (thranda/switches/SwitchDn26)
Leveraging the thranda/Switch and thranda/SwitchMonitor dataref arrays for conditional logic proved unsuccessful
Editing the values of 'ScrollFriendly' within the 'manifest.json' file proved to be ineffective and problematic (suggested by this forum)

The left/white yoke button straightens/aligns the labeled MCP/center console knob faces back to a readable 12 o'clock position (but does not actually affect values or turn the physical manipulator/knob)

I have this button assigned in XP11 as well (in addition to the Configurator binding) to 'Saved Camera #8'
This goes to my main pilot view and simultaneously presents (right-side up) readable knobs

The macro-heavy switches are intended to perform the majority of checklist items, simplifying the startup procedure

Some system elements don't appear to function or contribute (hydraulics, bleed isolation knob, etc)
Some of the smaller items have been intentionally omitted from the macro-heavy buttons, such as the resetting of the fuel-used counter, RH Avionics Master, etc
ALT
    Gens 1,2,3
BAT
    Batteries 1 and 2
    Pilot arm rest (up)
    Computers 1,2,3 (AUTO)
    Emergency Lights (ARM)
    Bleeds (all x7) (AUTO)
    Air Start switches 1-3 (GRD START)
    Overhead, pilot and co-pilot, MCP/shield/instrument lights (turned on)
    No Smoking sign (ON)
    IRS (to 'ALIGN')
    Windshield Heat (NORM)
    Annunciator Light Test switch (press 1x)
    Isolation Valve (to horizontal)
BUS1
    LH AV MASTER
    IRS (to 'NAV')
    Anti-Skid (ON)
    Hyrdraulic Standby Pump (AUTO)
BUS2
    APU start/stop
    *APU start sets the problematic and buggy dataref sim/cockpit2/bleedair/actuators/apu_bleed to 1.  This will allow you to start the engines again after the first shutdown.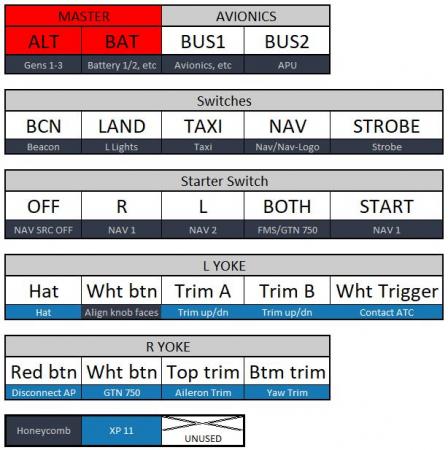 ---
For which Simulator
X-Plane