About This File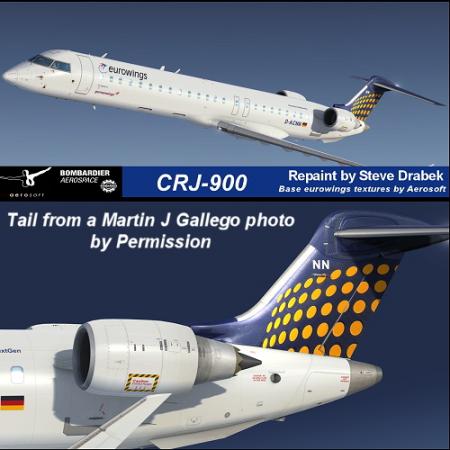 Contents of this ZIP-package: 
 Bombardier CRJ900ER Eurowings (Operated on behalf of Germanwings) D-ACNN
Repaint by:
 Steve Drabek
Base Eurowings textures from AS paintkit, Stefan, Holgi and others unknown to me
Aerosoft paintkit (and base textures) by:
 Stefan Hoffmann
Installation (CRJ Livery Manager):
 Start the Aerosoft/Digital Aviation CRJ Livery Manager and drag the ZIP-File into the list - or click "Add Livery" and select the desired file. 
 You get a preview of the new livery - and install it with just one click. (You can read all Livery Manager functions by clicking the "?" button!)
The entry for the aircraft.cfg:
[FLTSIM.X]
title=CRJ900ER EuroWings D-ACNN
sim=CRJ900_AMM
model=
panel=
sound=
texture=EUR_DACNN
kb_checklists=BombardierCRJ900_check
kb_reference=BombardierCRJ900_ref
atc_id=D-ACNN
atc_airline=Eurowings
atc_parking_types=GATE,RAMP
ui_manufacturer="Bombardier"
ui_type="CRJ900ER"
ui_variation="Eurowings"
ui_typerole="Regional Jet"
ui_createdby="Aerosoft/Digital Aviation"
description="CRJ900ER/Eurowings D-ACNN \nwww.aerosoft.com\nRepaint by Steve Drabek\n\nBase Eurowings textures from AS paintkit, Stefan, Holgi and others unknown to me
\nThe CRJ (Canadair Regional Jet) family of aircraft was derived from the Canadair Challenger business jet, which began its operational life as the LearStar 600. The Bombardier Canadair CRJ700, which entered service in 2001, is a stretched version of the CRJ100/200 regional jet, with increased seating capacity from 50 to 70. With increased length and upgraded landing gear, the CRJ700 features a longer wing span and leading edge slats. Like other members of the CRJ family, the CRJ700 features an electronic flight instrument system (EFIS) avionics suite and "glass cockpit" instrumentation."
category=airplane
Acknowledgements:
 The blanks used as a basis for this repaint are by Aerosoft/Digital Aviation. Thank you for the wonderful model and the great paintkit.
 Thank you Hans.
 Thanks to Holgi for any textures I may be inadvertenly using in paints created from the orginal AS paintkits.  I also used his readme file as the basis of mine (since he's painted 100's of planes for AS).
Thanks to Martin J. Gallego for permission to use his excellent tail photograph!
Legal Stuff:
 This repaint is released as FREEWARE. You may use and modify it in any way you wish, but you may NOT use it in any kind of money-making
 endeavor, and you may NOT publicly distribute any copies of it, whether modified or not, without my permission. 
Steve