About This File
AES repaints for Mega Airport Berlin-Brandenburg, fictional as the airport itself 

.
High resolution 32Bit files (For FSX and high end graphics) and DXT1 files (for FS9).
The airport staff is in DXT1 format only, because I can't see much difference and its better for saving memory.
Please make sure to download and install the right files for your system!
Because of occasionally AES updates, I update my repaints as well. If you don't want to miss the updates, feel free to follow this content or the AES download section.
The set includes:
Vehicles
01-03 Pushback towless small (Globeground)
01-04 Pushback towless medium (Lufthansa LEOS)
01-05 Pushback towless big (Globeground)
01-15 Pushback tow big (AirBerlin Technik)
02-01 Bus long (Airport Colors/WISAG)
02-02 Bus short (WISAG/BER)
02-03 Bus Neoplan (Airport colors)
03-01 Stair open small (Air Berlin/WISAG)
03-02 Stair open big
04-01 Container loader medium (Acciona)
05-01 Beltloader medium (WISAG)
06-01 Cleaning Crewvan (WISAG)
07-01 Catering 01 half Cabin (LSG Sky Chefs)
07-02 Catering 02 low Cabin
07-03 Catering 03 std Cabin
07-04 Catering 04 A380
07-10 Waterservice (Acciona)
07-30 DeIcing (WISAG)
Airport staff 
01-02 Rampagent Marshaller (Globeground)
01-03 Catering Driver (LSG)
01-06 Waterservice (Acciona)
01-08 Cargo Loader (Globeground)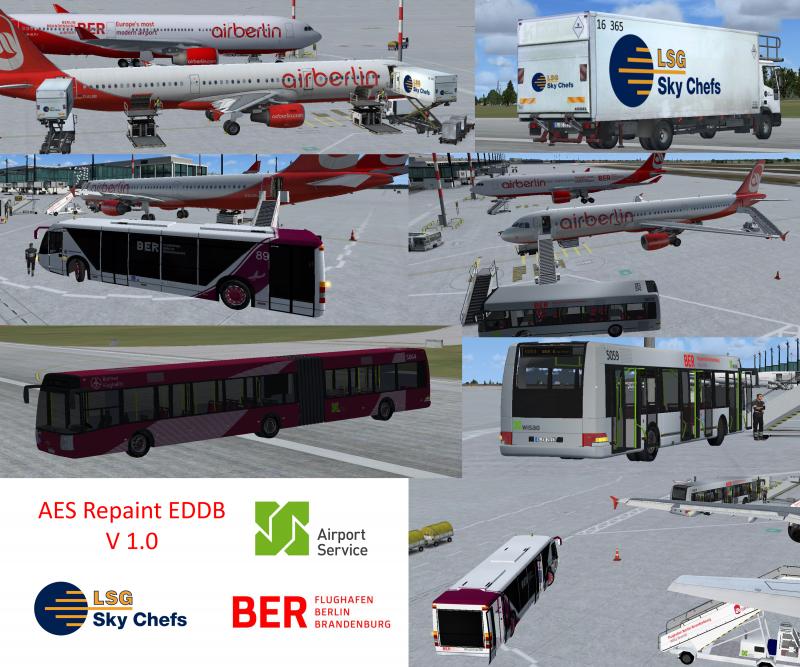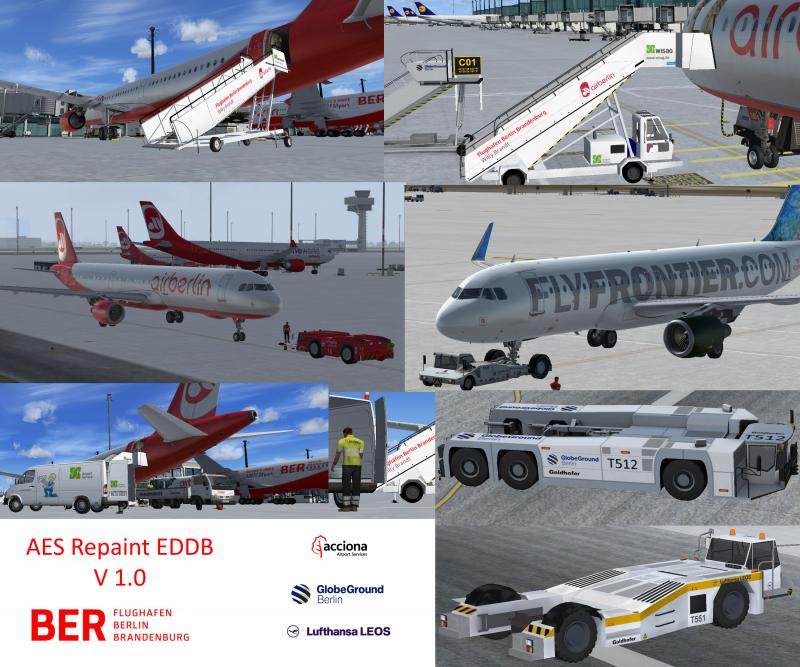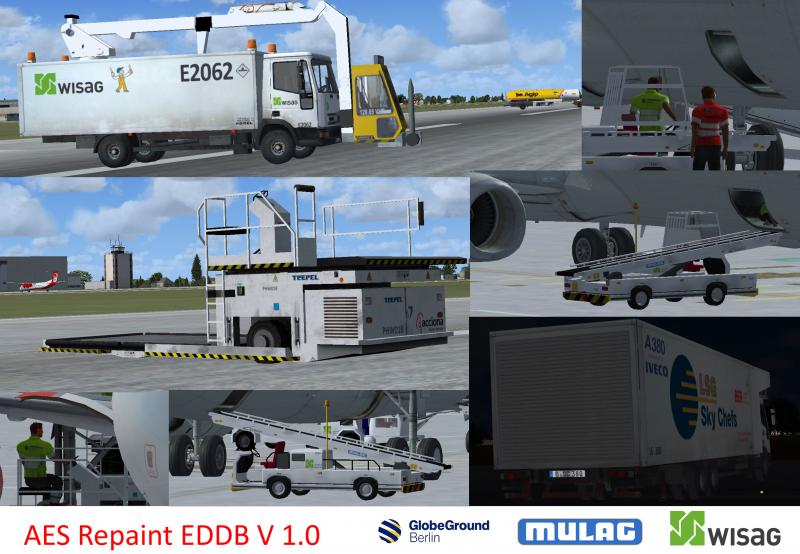 To create AES textures for this airport, which is still under constuction, I searched informations about the companies, which will handle the different airport services in the future.
Based on this information I mixed paints of vehicles from this companies, which are serving other airports already and some fictional repaints, with are made in the corporate identity colors of the airport.
I also added some further details on the repaints, i.e. side lights for some night textures, ventilation slits, automatic door-openers and license plates.
For installing instructions, please have a look into the readme file, which is included in the Zip file, or the AES manual by Oliver Pabst.
Enjoy & I hope you like them!
Um die AES Texturen für den noch immer im Bau befindlichen Flughafen zu erstellen, habe ich versucht rauszufinden, welche Firmen später einmal auf dem Flughafen arbeiten werden.
Anhand dieser Informationen habe ich dann Fahrzeuge dieser Firmen, die bereits auf anderen Flughäfen arbeiten, als Vorlage genommen und dazu noch ein paar fiktive Fahrzeuge erstellt unter Beachtung der Corporate Identity Farben.
Außerdem habe ich den Fahrzeugen noch ein paar zusätzliche Details verpasst, wie zB. Begrenzungsleuchten für die Nachttexturen, Lüftungsschlitze und Türöffnungsknöpfe und Kennzeichen.
Für Installationsanweisungen ist eine readme Datei enthalten, ansonsten stehen auch Anweisungen in der AES Anleitung.
Viel Spaß damit & Ich hoffe sie gefallen euch!