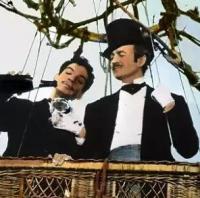 About This Club
Join us in a aviation version of the famous journey made by Phileas Fogg, traveling around the world in 80 days. We leave on October 2nd and arrive on December 21st. Check out the rules and when you like to join create your own dairy topic.
---
What's new in this club

Mathijs, have you thought about starting a new around the world event after your new Airbus Pro models come out? I really enjoyed the 80 days event and it would be nice to do something again. Or maybe just a weekly challenge with different approaches and time/weather settings etc. This would be a great way to celebrate and see the new models in several situations.

It's officially summer now and the last post in this "club" was on 19 May. I voted in December. As I understood it, Has anyone else voted at all?

Will you leave the diaries up so people can still read them?

Congrats on finishing! "It is better to travel well than to arrive." -Buddha

I'll close this next week. Some people were still flying.

OK, it's now May and as far as I can tell the last chick has returned to the nest. Are we going to vote on entrant's submissions, say the event is over, or just ignore it and let it all die? Rupert

I was away for more than a month, a belated -yet well due- congratulations on your safe arrival, Philippe. . You have done the Dove proud and a grand job with your presentation of your trip. I so enjoyed reading what I missed of it. I also have hidden a bottle of stout ale for you. Best wishes. Cheers. Khalid

That's the real spirit, sideout! Congratulations Neal, you made it in time! Let's have a beer or some more at the bar. Gernot

well done matey, look forward to seeing you on the next one!

Congratulations Neal on your safe arrival. Managed to save you a bottle of stout! Nice work. Best wishes. Khalid

Welcome Neal!! It's wonderful you were able to finish!! I enjoyed your screen shots as well. Sorry Sue Ling and I weren't there to greet you. We got hung up at London City. Hoist a pint of "Best" or a G&T on me for your safe return. Rupert

You will have to buy your own drinks. we drank the table bare when we got here.

Final leg, to London Gatwick. I'm sure Rupert will be pleased. Pushing back from gate 107 at Dublin Taxiing out to runway 28 Take off to the west Making a left turn at 3,000 feet At our cruise altitude of 33,000 feet along the north coast of wales Beginning our descent, just passing Birmingham Turning onto our downwind leg at 3,000 feet Fully configured for runway 08R at Gatwick Landing ....and parked up for the last time. No idea what gate number we're at but it doesn't matter. We've finally completed the trip. Really enjoyed taking part in this tour. Unfortunately a lot of personal issues got in the way and I wasn't able to stick to the schedule, but very enjoyable all the same. A big thank you to Mathijs for organising it.

On our second last leg now, off to my local airport, Dublin. Ready to push back from gate 5 Take off from runway 19 Cruising along the south coast of Iceland at 23,000 feet. This is the altitude PFPX assigned me. Is this not very low for a 2 hour 30 minute flight? Just starting our descent as we pass over Belfast International Airport Lined up on final for runway 28 at Dublin Landing Back home for Ryanair. Parked at gate 107. Would have liked to have had my Aer Lingus A320 back for this leg but hopefully it will be released soon. Also would like to have had Mega Airport Dublin upgraded. Ah well. 1 more leg to go and we'll be back at London Gatwick.

That's entertainment.... We're not leaving til everyone's back

Ah ok then. Be careful of the door on your way out

Not really Neal, About once a fortnight or so I happen to notice nothing has happened here. Being used to people shutting down sites with a lot more action than this, I just wonder why this one is still up? As far as proceedings or recognition, that's never been an issue. But this was a fun site for a few months. There was so much inter-action, joking, etc. that It's sad to see it so dead! Having said that I was just looking at a few other clubs. CRJ was last used 01/13, Jet Lounge 2/18, Shared Cockpit 11/20/17, etc. By those standards I suppose this site should be considered hot!! That's Truly Sad!

I'm currently in Iceland, with 2 more legs to fly. But the burning question is, why do you care Rupert? I'm not holding up proceedings. The event actually IS officially finished. It's finished for you, and anyone else that has completed it. I'm well aware of that. I'm also well aware that I missed the deadline. I'm not looking to lay claim to any prizes. I'm just continuing it on. We are not "still hanging out". No one is forcing you to post here. This is 2 or 3 times you've made such comments. Is it an insecurity thing with you? Do you somehow feel threatened that late-comers will bask in the same glory as the people who finished on time?

Where in the world are you Neal!!?? It's 28 April 2018, well over four months since the 80 day round the world rally ended on the stated ending date of 21 December!! Yet we're still wondering where Neal is. Is Neal living or is he dead? Why are we still hanging out and not finishing an event over four (4) months past its' posted ending date?? I also have to ask what kind of event is this where an entrant is not eliminated despite being over four (4) months late for an eighty (80) day event which was posted as ending on 21 December 2017, not 2018??!! Rupert

Like me playing golf, the more strokes it takes to get round the better value for money

I'm making really hard work of this

Moving off to Iceland Lining up on runway 10 at Kangerlussuaq Take off Climbing through 10,000 feet for FL390 Cruising at FL390, reaching the coast of Greenland Descending through 26,000 feet This is going to be unpleasant And we're looking ok Parked at gate 8 at Keflavic and to be perfectly honest I'm fed up of gates not lining up where they should be, and GSX not recognising them. I wouldn't mind if I was using an addon airport, but this is a default airport.

Oh yeah, very, very drunk Keep on keeping on Neil, nearly there!

Crikey. I made a bet? Was I drunk?