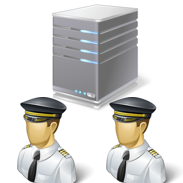 About This Club
We are running new tests. Please do NOT use Discord as a medium to talk to us, we do not monitor it for support. Please ONLY connect with the files that are updated today!
---
What's new in this club

Joecraft446

joined the club

ashy5231

joined the club

Just received the latest information that the server should be back running now.

Hello Ben, we have identified that there is currently an issue with the CFD server and are working to resolve it and bring the server back online as soon as possible.

Hi all, I'm using v1.2.5.0 of the Airbus in P3D v4.5 and cannot create a CFD session at all. I can connect so it shows 'Connected' in green by LSK6 but clicking the Create Session key does nothing at all. Any ideas how to resolve this? Cheers, Ben

Benoen

joined the club

delta india vector

joined the club

CaptainTommyR

joined the club

magna91

joined the club

Program Update: I'm working all weekend to finish the documentation done for our the Aerosoft Flight Simulation and Connected Flight Deck Community, as well as continuing to work with our CFD Captains who will soon be available to work and fly with everyone from new to experienced flight simmers in both Single Cockpit and Connected Flight Deck. We're also in the process of scheduling the first month of special events for our Community. Next week we'll publish all the documentation including a very exciting "Aerosoft Flight Sim and Connected Flight Deck Community" announcement and community description, and I believe most of our customers and other flights simmers will find this to be one of the most exciting announcements and groups in all of flight sim. Stay thirsty my friends!

Romano Lara

joined the club

UPDATE: Aerosoft CFD Captains Program Yesterday (Saturday, August 3, 2019), we had a meeting with 5 of the current 12 volunteer candidates for our new CFD Captains program. I was more impressed by this group of flight simmers than any group of flight simmers I've worked with, and that's really saying something given the number of groups I've worked with over many years. For those who may not know, after their initial indoctrination, our CFD Captains will be available to fly with anyone who would like to join them on the flight deck of our Airbus Professional series and later the Aerosoft CRJ-700X/900X. For now, we are flying the A318, A319, A320 and A321 aircraft, and we'll be adding the A330 after it is released. We will announce when our CFD Captains are ready to start flying with Airbus Professional owners, as well as how to book them for a CFD Flight. CFD Captains are available to help Airbus Professional owners to better understand: - Normal Airbus Operations for all phases of flight - How to obtain and/or develop a Flightplan using freeware and/or payware tools - Everything one needs to know to fly on VATSIM - How to communicate with VATSIM ATC - How to obtain, install and use a variety of freeware and payware software to increase the immersion level of your sim. - And so very much more! The meeting was scheduled for 2 hours, however due to their enthusiasm, the meeting turned into our helping our candidates upgrade their simulators for both significantly increased immersion and coordinated weather settings and weather textures. After a quick test, our CFD Captains candidates were very impressed at the increased immersion and quality of their sims! Today (Sunday, August 4, 2019) we will be flying with our CFD Captain Candidates to demonstrate a simplified version of CRM (Crew Resource Management, which is basically the teamwork between the Captain and First Officer) which can be used on any CFD / Shared Cockpit aircraft, and share with them some of the techniques and lessons we've learned over the past 14 years of flying CFD/Shared Cockpit. We have 5 more CFD Captain Candidates in the pipeline (for a total of 10 CFD Captains) and this coming week we will schedule the initial meeting with them. We are still accepting people for the CFD Captains program. If you're interested or would like more information on the Captains Program and you are already very experienced with the Airbus and flying on VATSIM, please contact me via Private Message here in our forums. Best wishes for Happy Flights!

ido_bone

joined the club

Beginning this Saturday (August 3, 2019) we will be putting together a group of Aerosoft Connected Flight Deck Captains who will make themselves available to fly Connected Flight Deck (CFD) and when necessary help them to understand: - How to use Connected Flight Deck - How to fly the Airbus - How to understand everything necessary to fly on VATSIM/IVAO, including flight planning and communicating with Online ATC. With many years of using Shared Cockpit / Connected Flight Deck to introduce flight simmers to new aircraft and how to fly on VATSIM, I can say that there is no better or more enjoyable way to introduce people to a new aircraft or how to fly online in a realism based environment such as VATSIM/IVAO than Shared Cockpit / Connected Flight Deck. As our CFD community grows, we'll be doing group flights during VATSIM events as well as long haul flights in the A330 with crew changeouts! Crew members swapping out then have the choice of leaving or staying as an observer on the flight for as long as they wish. This is something people will definitely want to be a part of! Can you imagine 20, 40, or even more fully crewed aircraft flying a large VATSIM event? Talk about "As Real As It Gets"!!! If you are experienced with both the Airbus and flying on VATSIM/IVAO, and you would like to share your knowledge with someone who does not yet have the same experience, please let us know by sending an email to us at flightsimmessages@gmail.com. Please include your real name, your age, the city where you live, your time zone (example: GMT+1), how long you've been flying the Airbus and flying on VATSIM. If you are already a member of the Aerosoft CFD Discord Server please include your Discord username. Our CFD Discord Server is located at: https://discord.gg/zp95782

El Stefano Ehlando

joined the club

ahmadjie

joined the club

javithetroller

joined the club

Joe.l

joined the club

airbusliker

joined the club

leecushing

joined the club

ahuimanu

joined the club

BAPILOT744

joined the club

From what I tested with my friend yesterday, only the PWS switch has been synced, but I might have skewed the testing by not rebooting my PC.

Can you write what exactly has been fixed with this update? In order to do a quick check Thanks a lot

Hello Luke, A word from the test manager as Dave mentioned. First of all, thanks for the feedback. Work is still on going with the CFD implementation and there have been some issues that have proved a little bit harder to solve than we initially anticipated. This coupled with on going development with the highly anticipated A330 has slowed down things a little bit with CFD. But I can assure you that progress is still being made and there are things that you mentioned that have seen great amount of work already but were not yet quite ready for this update. I appreciate the feedback so we know what you find important so that we can prioritise the items properly. Hopefully we can bring you fixes on if not all of the issues you mentioned, at least on most of them on the next update. And hopefully not much later we all can say that CFD is reaching the state of flying just like without CFD with no CFD related issues and instead enhancing the experience how Airbus really should be flown as two man crew.

Luke, No need to apologize my friend, your post wasn't even close to crossing the line and we always appreciate your feedback. I am not involved in CFD development, but I too am looking forward to seeing it wrapped up. I'm wondering, did both of you guys reboot after installing the update? If not, can you please try doing so and let us know if things are better afterwards? I'll also ask the Test Manager to pop in here to provide an update on CFD. My very best wishes, and thanks again for the report.

Hello, Sorry in advance if this is a bit blunt, but I would like to point out that in two months of work on CFD only one more switch has been synced. My friend and I tested the new update today and found that the crew supply switch still isn't synced, the radio panels on/off still aren't synced, the IRS aligning was made worse; we used to be able to align it separately but now we can't at all. Also, the navigation displays are still not separated and the MCDUs aren't synced between both pilots. After 2-3 months of waiting for an update this is what we get? Maybe there's a good reason, but from what I can see it's just a lack of developers working on this project with huge potential.

Maxwell Falk

joined the club

Slim55

joined the club

vatsim Green

joined the club

Mathias Rex

joined the club

until

OJAI AMMAN EGLL LONDON HEATHROW AIRBUS A321

until

BAW Airbus A320 IVAO London Gatwick to Jersey round trip

anaughton

joined the club

dandyflyer

joined the club

kenz

joined the club

Are you checking all the text channels,? Robert has responded to users several times. Development has certainly not stopped but Robert also has to work on other things. CFD is a very important part of our Airbus, and we invested quite heavily in our proprietary technology to power it. Best wishes.

Good news, it just seems like development has stopped because there hasn't been an update in that channel for nearly 2 months.

In addition to what Emi and Secondator said above, you can also find more timely updates on the Aerosoft CFD Discord Server where our CFD Developer Robert not only monitors, but also provides updates (in the "aerosoft updates" text channel on the server). Best wishes!

Hello Mayerflyer and luke, Meyerflyer, I have read all the issues you have posted, thanks for reporting them. We are currently aware of most of the remaining CFD related issues and trying to work our way through them. But of course always appreciate user reports as well if we had missed anything. Even if we don't always reply, know that we are monitoring these forums and rarely any bug report here goes unnoticed. CFD project is still alive and well and we still have more plans for it, so stay tuned

Ridhwan Asad

joined the club

CFD is simply still in development, once it is released in full you can be sure to recieve full support for it.

It seems like work has been completely dropped on CFD which sucks because it had tremendous potential.

Jordan Zyncs

joined the club

jayden123

joined the club

Is it normal for this forum to not receive replies? I am a little bit dissappointed that I received not a single reply to my 9 threads I opened. It took my time to report issues I found and help you improve the CFD. I expected at least a "Thanks for your report, we'll check that." but no reaction at all.

This facebook group is for italian speaking people who want to share airbus cockpit https://www.facebook.com/groups/1049863728548953/

Me and @waltervizzi this morning performed a flight from EDDL to LFMN. CFD works quite well. That's the bugs report: 1. FUEL LOAD NOT SYNCHED Captain loaded fuel but only for his plane. That caused engines shut down few minutes after T.O. for both planes. It's very important that both PF and PM load fuel on the plane. So we did in the second flight attempt 2. RADIO FREQUENCIES NOT SYNCHED Both pilots must select the stand by frequence and only after that switch to activate it 3. MCDU NOT PERFECTLY SYNCHED Somethings work and something no. Both pilots must align and do other stuff. Pay always attention to MCDU 4. DOORS Our first flight attempt failed due to doors not synched. PM had got doors closed while PM had got cargo doors opened. In the second flight attempt doors were synched. So before start engines check doors status. 5. BARO QNH NOT SYNCHED Both pilots have to set qnh Unfortunately we have to report managed speed issue. During cruise managed speed suddenly drop to 117. So this bug is still there whatever aerosoft says about it. It's a random issue but still present. When we experienced the bug we saw that cruise ecam page was not more present. So it's like approach phase self activated.

The current version is 1.2.4.1. Connected flightdeck an error. Can you tell me how to fix it?

[VP] Hanbuk

joined the club

alex737ng

joined the club

hasha

joined the club

I understand. Once clean installed and tested, if the problem persists, I would like to issue a support ticket. Thank you for your kindness.